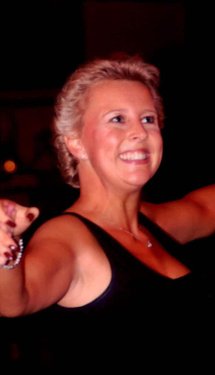 "Michelle is a very skillful ,talented & charismatic teacher.She has endless patience with her students of all ages & dancing experience.The classes are well structured & pacy.In each session you feel to have covered a considerable amount of new work as well as revision of previous steps, so that at the end of each four-weekly course two routines have been added to your repertoire.Michellehas a very lively personality & a great sense of fun which she injects into her teaching.
We really enjoy the classes & have no hesitation in recommending them to anyone wishing to acquire new skills or build upon existing expertise."
Val & Alan Price
Monday Foundation Course Members 7.45 pm
March 2018
"I joined MLC Dance in April 2017 & from the very first class knew I had done the right thing.Michelle is an inspirational teacher.She is extremely professional & knowledgeable & has wonderful teaching skills. She assesses her students skilfully & tailors her teaching to ensure they have a real sense of achievement.As well all that she is bubbly, smiley & funny & everytime I leave one of her lessons,I walk with a spring in my step, a smile on my face & a sense of real progress & achievement.
Michelle, I can't thank you enough for making such a difference to my life.
I came to you with no confidence & very poor balance & I cannot believe I now have a Peggy Spencer Legend Award Medal!
You are a star !
Your lessons are a highlight in my week.
Thank you so much."
Virginia Harrington
Monday Next Steps Course Member 8.30pm & Private Lesson Pupil
March 2018
"Michelle makes even lesson fun & engaging.I especially like the way she teaches manageable chunks.She directs in a highly professional manner with clear instructions & plenty of demonstration."
Pamela
Monday Foundation Course 7.45 pm & Wednesday Lunchtime Course 12.15pm Member
March 2018
" Michelle is obviously a very talented dancer,& her enthusiasm rubs off on her pupils.
Michelle always prepares the lessons in advance so beginners know they will have an experienced dancer to help them.
The friendly atmosphere, & dancing with already good dancers means beginners progress quickly.
My friend dragged me along to the first class, but now I really love it and hope to take my first medal in the next exam session!"
Sue Walker
Wednesday Lunchtime Foundation Course Member 12.15pm
March 2018
"I really look forward to my Monday evenings.Michelle provides a relaxed, fun atmosphere where we are all learning various Ballroom & Latin American dances.You can sign up for 4 week blocks where usually 2 dances are taught.
Everyone is welcome, whether you want to come along as a couple or, if you're on your own,Michelle will find you a partner.
I highly recommend these lessons.Great teacher & lovely hall with a sprung floor."
Liz Weston
Monday Next Steps Course Member 8.30pm
March 2018
" I have been attending MLC Dance courses for three years.Learning to dance was always something I had wanted to do & this has enabled me to take part in the social events I attend.
I really enjoy the Wednesday lunchtime class who are a friendly group.
Michelle is a brilliant teacher who inspires & encourages all her pupils whatever their abilities.We have fun & it is always good to learn something new,it's a great feeling leaving the class having mastered a new dance."
Jill Taplin
Wednesday Lunchtime Foundation Course Member 12.15pm
March 2018
"I am delighted to give Michelle a first class testimonial as she is by far the best dance teacher I have had.She is extremely professional & understands the needs of her students & therefore is able to tailor her lessons accordingly.She takes trouble to patiently explain & demonstrate moves.
As a former school teacher myself I admire her ability to mix just the right amount of constructive & beneficial criticism with praise, & with her I feel I am at last making good progress in my quest to be a proficient dancer.I look forward eagerly to each lesson & always finish one feeling something good has been accomplished.
Thank you so much Michelle"
Sally
Private Lesson Pupil
March 2018
"I attend the beginners course on a Wednesday lunchtime & compliment Michelle on her patient teaching & making the whole experience enjoyable."
Pete Weston
Wednesday Lunchtime Foundation Course Member 12.15 pm
March 2018
"Michelle is an excellent dance teacher! The classes are well structured and thought out and she has a natural style of teaching that makes her easy to follow and learn from! I personally have loved the classes,they're lots of fun and I would highly recommend them to anyone who would love to learn how to dance.Especially now that it's Strictly Season!"
Mandy Burger Wednesday Lunchtime Foundation Course Member 12.15 pm
October 2016
"Hi Michelle,I just wanted to say a big thank you for teaching us to dance for our wedding.It went well and people loved it and were very impressed.You are a great teacher,were incredibly patient and we can't wait to join your next dance course after the honeymoon.Thanks again."
Lynn Fisk First Wedding Dance
January 2016
"Speaking as someone who has avoided learning to dance for 40 plus years but had to learn for a "first dance "at my wedding....I have to say I was amazed at Michelle's patience when coping with my two left feet.She literally had to teach me step by step-and repeatedly re-teach me each time I forgot.Eventually we got there and the wedding day dance was a great success.I will forever be grateful....and I'm looking forward to learning some more,now I'm over my dance-phobia."
Bernie Wales First Wedding Dance
January 2016
"Dancing with Michelle as a teacher is always something I look forward to,both in private lessons, and on social evenings.Not only does Michelle make learning to dance a pleasure with her friendly and bubbly personality,she is also a perfectionist.I always come away from a lesson feeling I've learnt so much in the space of an hour.The lessons and routines are never dull and the time goes all too quickly,I would recommend Michelle to anyone wanting to learn to dance,as well as well-practised dancers to hone their skills."
Sally Winter-Private lesson pupil & Variations Course Member 7pm Mondays
October 2015
"Today is a year since I started Ballroom Dancing.I have always wanted to learn and I am very grateful that I got the opportunity to
do it.I have learnt so much and learnt things that I never thought I'd ever be able to.So thank you Michelle for being a great teacher,
it's been an amazing year!"
Becky Seymour-Foundation Course Member 7.45pm Mondays
October 2015
"Thank you for the fantastic dance lessons .Really enjoy them & think it's one of the best things I've done.
Thanks again"
Mark Eldridge - Foundation Course Member 7.45pm Mondays
July 2015
" Great atmosphere,great teacher, and just an all round fun evening of dance instruction for all levels of ability"
Simon Speechley - Next Steps Course Member 8.30pm Mondays
January 2015
"Michelle runs fun beginner classes full of plenty of basic along with the odd turn or two.Thanks for encouraging us to get out on a Monday evening and strut our stuff"
Heather & Simon Dobby - Next Steps Course Members 8.30pm Mondays
June 2014
"I started dancing some 50 years ago but have only recently had private lessons with Michelle.She has helped me to "unlearn" all the bad habits I had developed and has managed to guide and encourage me to progress to my Ballroom Siver Medal which I recently attained with Honours.Thank you so much Michelle."
Rosie Martin - Private lesson pupil & Variations Course Memeber 7 pm Mondays
December 2013
"I always find classes with Michelle are fun,lively and enjoyable which makes it easy to learn even complicated steps! Since having private tuition my confidence and technique have improved immensely with her dedication to getting the best from her pupils.Michelle's professional but supportive manner has been a really good combination for my continual learning and success in exams.All of this makes it a thoroughly enjoyable school to be part of - thanks Michelle!"
Suzie Green - Private lesson pupil & Variations Course Member 7 pm Mondays
November 2013
"I was a man with two left feet and no rhythm,sound familiar? Well just over 7 years ago I
was convinced to go to a dance lesson.There I met this lovely bubbly lady,who was obviously mad to teach me to dance.I never looked back.That lady was Michelle,she has taken me from that sad but familiar start, to someone who has more confidence and can now lead a lady round a dance floor.We have become great friends and always have a laugh.Thanks Michelle for all your patience and getting me so far."
Martin Rasch - Private lesson pupil & Variations Course Member 7 pm Mondays
November 2013
"Michelle is a fun,kind
and encouraging dance teacher.She has excellent skills and always brings out the best in all of her pupils.To make adults believe in themselves is a gift....Michelle has that gift and uses it FAB-U-LOUSLY!!"
Wendy Bailey - Private lesson pupil & Variations Course Member 7 pm Mondays
November 2013
" My husband promised me 20 years ago he would learn one dance with me!! Well now thanks to Michelle and her 4 week beginner classes we now know 4 dances ,one of which is the Jive,which we love ! The hour flies by and we have such a laugh and it's very good exercise! Thanks Michelle
Love from Fred & Ginger ( Debs & Kevin) - Monday 7.45 pm Foundation Course
November 2013
"Over the last year or so,Michelle has been teaching us the Viennese Waltz.We are finally getting to a stage with this difficult dance where on a good day,with the wind in the right direction,we can glide seemingly effortlessly around the room.It has been hard work but well worth it.The feeling is intoxicating,addictive and legal ! Thank you Michelle"
Manine & Andy - Private lesson pupils
November 2013
"Michelle is a inspiring,encouraging, patient and dedicated teacher.Her classes always have a happy environment,and I have learnt such a lot since attending them.I always look forward to Monday evenings."
Georgina - Monday Variations Course Member 7pm
November 2013
"Just a small note to thank you for all the dance lessons and help you gave us throughout the year.We always come away with a sense of achievement and know that we have improved that bit more.We are looking forward to another year of lessons and new dance routines."
Kind regards Ron & Sandy - Private lesson pupils & Variations Course Members 7pm Mondays.
November 2013